Products & Services
Power Driven Pump Sets
During the last 31 years, Efficient Engineers (I) Pvt. Ltd. has completed various water supply and drainage projects involving supply, installation, testing, commissioning, operation and maintenance of various types of pumps like Vertical turbine, Mixed flow, Submersible, Non-Clog, HSCF, Centrifugal pumps, Monoblocks, Gates, Electrical Equipments, Electromagnetic/Ultrasonic Flow meters, Fire fighting equipments as well as HT/LT installations. Work Completion certificates of some of the prestigious works executed satisfactorily in this category are presented under achievements link.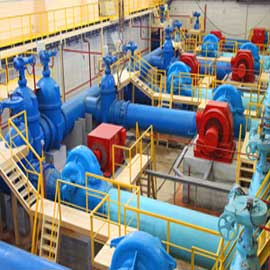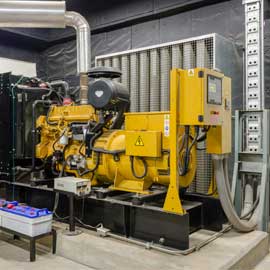 Diesel Generating Sets
Diesel Generating Sets mainly supplied to GWS & SB, GIDC, BSNL, a/c BSF for providing power to various water supply projects, Industrial Estates, telephone exchange Buildings and to the flood lighting at India-Pakistan Border for Border Security Force. We supplied LT D.G. Sets starting from 30.0 KVA and HT D. G. Sets up to 1250 KVA rating. D.G. Sets Supplied and installed with all latest technology, and electrical equipments up to the satisfaction of the end Customer.
Natural Gas Compressor
The world has realized the significance of Natural gas which is one of the cleanest and greenest fuels. Power generation using Natural Gas is significantly cost effective as compared to conventional fuels. Apart from generation of electricity, usage of gas is also increasing in the domestic, automobile and industrial sectors. Recent discoveries of large reserves of Natural gas have resulted in the emergence of a new market of equipment and technology for Natural Gas Compression. Being an upcoming market, we sensed the promises and opportunities in this segment and hence started accepting works and projects in this area also. Utilization of Natural Gas needs technology based product such as Gas Compressor along with peripheral equipment like instrumentation, heat exchangers cooling water consoles etc. and the team working on such projects not only needs to be technically stronger, it has to be extremely careful against fires, explosions and other hazards.
Solar Energy Management
The Company was considering blogging about some factual details and arguments for the use of solar power; details about its benefits and economic advantages and why a typical Indian consumer, whether business or household, should invest in a solar generation solution. The Company could have written about the triple bottom line – People, Planet and Profit. About how all of the "smart companies do it". And finally, we would have finished with something along the lines of:
Apart from National & State Incentives, which varies from state to state and country to country, Solar provides the following benefits to your organization:
As solar integrator, Affordable Solar has helped countless homes and businesses lower their utility bills and reduce their carbon usage virtually overnight – using nothing but the power of the sun and some panels made of sand. But that is not really what we do. It was figured out that what we really, truly do – what Affordable Solar provides – is to free you or your business or your family from purchasing all the energy you use from one source that also chooses how that energy is made. Solar providers decouple you from the utility and its own paradigm of generation and use. We break the chain of dependence, by giving the consumer a tool and the knowledge to use the tool to make their own lives and those of their community, better. Essentially, we at Efficient Engineers are trying to make energy nearly free, with everyone's help.

The management software and applications and power electronics (like smart phones and smart batteries and inverters), will still cost some money. Just like we use an iPhone to access the net and purchase content, we will use "grid services" – possibly through our iPhone – to access and manage our energy.
However, the energy itself, all those kWh will be nearly free! The energy will come from the sun, not from a coal plant. Now the tide has turned. The summers are really hot, and the icecaps are melting. Initially, only individuals will change and just buy solar; but then whole communities and finally the grid and the utility itself will change.
Management Consultancy
Efficient Engineers (I) Pvt. Ltd. (herein after referred to as "Efficient Engineers") is a fast Growing ISO 9001-2000 certified Company. It has proved to be one of the fastest growing Company in the Engineering Industry and all its dedicated efforts have contributed to them in securing notable work contracts from the Central / State government
View in detail about our exclusive Management Services Click Here
Tarpaulin
At Tarpaulin Distributors, we provide safe, reliable, and environmentally friendly solutions for all of your trapping needs! Quality, durability and versatility are foremost in our selection of tarpaulin products and materials. We are proudly owned and operated by highly experienced professionals with collective industry experience of over 30 years and operations in the US and Canada.

View more destails, Check our website
Energy Management & Conservation for Pump Sets
Conserving the energy is a smart act to take more work from the machinery at comparatively low operational & maintenance cost. This provides Win-Win situations to the client or customer, and the consultant or the machinery seller, supplying tailor made machinery, and not the conventional standard motor-pump sets. In this division there will be a consulting department for the pumping machinery and energy conservation industry. The Company serves its areas of all its business departments working to make its operations more productive and economic so far as the energy consumption & energy conservation are concerned by controlling energy bills and reducing expenses by energy conservation.
View in detail about our exclusive Energy Conservation Services Click Here